Entrepreneur, inventor – creator of the Julius-K9® brand, writer, musician.
The inventor of K9-harnesses (harnesses with hook & loop patches) was born in Hungary (1970). Originally, he graduated in architecture from a polytechnic in Budapest.
1990-1994 – Member of the trainers' group of Budapest Rottweiler Club
1994-1998 – Member of the trainers' group of the Austrian Association for German Shepherd Dogs in Vienna (SVÖ)
1996-2000 – Saddler trainee at Neizer harness maker workshop
Why our name is Julius-K9?
Julius: German version of christian name of Sebő Gyula, who is one of the Hungarian owners and inventor of the products
K9: Julius Sebö got his first dog in Budapest, at 9 Kele street, and the address of the company's first premise in Vienna also contained number 9 (Langobarden Str. 9.)
Who is JULIUS?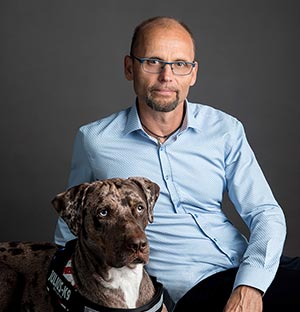 I have dedicated my life to pet welfare innovations. In my eyes, dog ownership is about caring and taking responsibility. In return, dogs bring joy in our lives. It is no surprise that the value of time spent with their pets has significantly grown in the eyes of dog owners. 25 years ago, we recognised the necessity of designing gear that will enable owners to spend the most time possible with their dog. This is how the dog harness came in to being, which sends the following message: Go together! And do so every day. This is the lifestyle we became pioneers in with the Powerharness.
The dog's message on our harnesses has reached hundreds of millions
Over two decades ago we have opened a previously unknown communication channel between dog and society with our interchangeable custom patches. Since then, our messages have travelled the world, calling attention to the prominent role of dogs in both families and the world.
Local production is sustainable
For us, environmental awareness starts with using European materials and employing European labour in our high-quality production. We believe, that by maintaining control over the production of textiles, straps, metal and plastic parts, it is feasible to offer dogs a product for that will last them a lifetime.
Gyula "Julius" Sebő
History
1997
History of Julius-K9 company begins with the establishment of Julius Export 2000 Bt. as a family enterprise in 1997.
First demands come from police units with service dogs. The first products (muzzles, leashes etc.) are supplied to Austrian and Hungarian companies and authorities.
The company cooperates with 9 suppliers.
The main market is Austria and the Hungarian police force. In addition to HILAN, A.W. Barth, Friedrich Heindl companies, more and more retailers join the group Julius-K9 sales partners. The main users of Julius-K9 products are primarily police units with service dogs, military units and dog-owners' associations.
Dog trainer centers of the Austrian Federal Ministry of the Interior in Strebensdorf and Bad Kreuzen start to utilize several Julius-K9 products on a regular basis, including K9-Powerharness® as well.
Julius-K9 starts to manufacture and develop bulletproof and puncture resistant equipment. The company gets the permission from the Hungarian Ministry of Defense to export military equipment.
Julius-K9's Powerharnesses and other developments of the company are presented to the international public at the World Dog Show in Dortmund, Germany.
Julius-K9 Export 2000 Bt., operating in Hungary, supplies almost whole Europe with its products. The entire development, manufacturing and logistics process is managed through a family enterprise in Hungary, with the cooperation of several employees and subcontractors. Specialized dealers receive K9 products through authorized wholesalers.
Julius-K9 becomes a regular participant of various fairs and expos (Berlin, Munich, Erfurt, Dortmund, Friedrichshafen, Udine, Budapest), as well as police product exhibitions. The first brand dealerships are established abroad.
Julius-K9 participates in charity activities, sponsors the establishment of an orphanage for the Hungarian subsidiary of the Baptist Charity Service, supports dog events and foundations worldwide, acts as main sponsor of VDH and concludes sponsorhip contracts with special rescue units (Rescue 24, K9 Suchhundezentrum).
In 2008 the company's name is changed to Julius-K9 Bt.
K9-Sport Kft. is established to take a hand in the growing sales tasks.
Julius-K9 dog harnesses win the first place in a test conducted by independent, professional dog trainers assigned by WDR Television.
Julius-K9 products are copied in 5 Chinese factories, and they are distributed in Europe. In order to reduce the distribution of copies, Julius-K9 takes legal action against several companies around Europe and submits the newest upgrades to patent offices as utility models and design patents.
Julius-K9 develops its new product line, i.e. the IDC® (Innova Dog Comfort) and submits 20 inventions to the Hungarian Patent Office within a year.
The usage of German materials in Julius-K9 products increases to 70%, while the number of the Hungarian wageworkers and production capacity are rising at a high rate.
IDC® harnesses are first presented at the World Dog Show in Dortmund.
Julius-K9 becomes a direct supplier of the Austrian Mega Zoo chain.
The company becomes a direct supplier of Western European store chains.
Julius-K9 entrusts TRIXIE, which is one of the largest wholesalers in the world, to sell K9-Powerharness® developed in 1997.
Julius-K9® brand representatives operate in 21 countries.
Julius-K9® has become one of Europe's largest dog equipment manufacturer brands.
The Cologne Supreme Court, in its ruling on competition, bans the sale of the widely known dog harness copy, called "DOXLOCK" in the entire territory of Germany.
Julius-K9 increases the share of Hungarian raw materials in its products and expands the supply chain.
It takes part in animal welfare and humanitarian projects, inside and outside of the country. It helps the subsistence of police forces with dogs, it makes documentary films and participates in TV-programmes.
The unique developments within the IDC® innovation program are continued to make our product range even more colourful.
The largest suppliers in Western Europe make the Julius-K9 product categories part of their program.
The Hungarian owner of Julius-K9 protects almost 50 technical innovations in Hungarian and in other foreign patent offices.
Sales in African, Arab, South and Central American countries are increasing.
New projects starts to support and promote responsible dog ownership, neutering and adoption.
The brand names, IDC®, Julius-K9® and K-9 Units are declared and accepted in every country around the world that are significant in terms of economy and/or population.
Based on patented plastic technologies, the production of IDC®-harnesses starts.The number of wageworkers rises and improves, the Julius-K9 factory, which is near the company headquarter, is modernized.
Additional warehouse and office building programs are initiated.
Innovation of therapeutic matresses combined with herbs are introduced.
Thanks to state subsidy, warehouse building investments accelerate in Hungary.
IDC® Multifunctional dog vest is launched into the market, adding a new dimension to the Julius-K9® product line.
Direct and indirect support for animal rights activists and foundations. A long-term cooperation begins with several Hungarian and German animal rights organizations.
The earlier registered JULIUS-K9® and IDC® brand names are protected in almost 50 countries around the world.
The first universal bags attachable to a dog leash or dog harness are placed on the market.
The management of the company creates the World Day of Companion Animals, which falls on the 20th of June each year.
An outlet store selling Julius-K9 products opens in Central Hungary.
Julius-K9 wins the brand-related proceedings taken against the Rocket Dog (California) company.
The managers of Julius-K9 with volunteers found their own animal rescue and rehabilitation association.
Educational cooperation starts with several Hungarian professional associations with the aim of job creation and student training.
2014 is declared by Julius-K9 as the Year of Children. Responsible dog ownership is promoted by national drawing competition and dog shows.
The first international Julius-K9 Rescue Dog Contest in the world is held.
A storybook and a music album presenting the Hungarian dog breeds, called "Ebengubák" ("Dogs of a Feather") is created as a result of the enthusiastic work of company manager Gyula Sebő and some artists.
A subsidiary, Julius-K9 LLC is established in North-America to deal with commercial and brand-related legal matters.
A 1,700-pallet warehouse opens in Hungary for the purpose of export to China and America.
The one millionth dog harness with the hook & loop chest strap and side label developments of Julius-K9 is sold.
IDC® Powerharness, manufactured and distributed by JULIUS-K9, has won the Hungarian Quality Product Award.
The following trademarks are registered: LUMINO®, FLIEGERBOMBE®, FLYING BOMB®, Color & Gray®, IDC® FRONT CONTROL and STEALTH®.
New guard & safety equipment is introduced into the market.
New leash and collar collection is developed.
IDC® 3 in1 Multifunctional vest has won the American Pet Industry Recognition Award.
Steady expansion – establishment of new sewing workshops in Tiszaderzs and Tiszafüred.
The construction of the 2700 m² office building for JULIUS-K9 is finished.
Thank to this investment Sales, Logistics, Legal and Marketing department teams are able to work together centralized.
Building partnership in China – hiring Chinese employees.
A great selection of new colors is introduced into the product range of IDC® Dog harnesses.
Launching of the "CANIS" product family. Dog harnesses are designed with happy and colourful graphics.
Introduction of T-shirts with graphics of puppy-dogs.
Neon dog harnesses are created for better visibility.
Setting up an online sales team in order to operate Amazon sales channels.
Launching of the Stealth® dog harness, which is specifically made for armed forces. Because of the design and the attachments of this harness, complete invisibility and easy-moving can be ensured for the dog.
Establishment of Julius-K9 Zrt. as the legal successor of Julius-K9 Bt.
2017 is the year of improvements. Duo-Flex® dog harnesses are presented internationally.
The www.julius-k9.com website is renewed.
Ongoing successful battle against counterfeit products.
Budapest Mantrailing Academy and Julius-K9 finishes the development of the unique Mantrailing harness, which is tested in real time deployment.
The 20th anniversary of the company's establishment.
The handover of the approximately 2700 m² new office building, with the aim of establishing centralized storage and commerce.
Opening towards the Turkish market (establishment of the Turkish subsidiary).